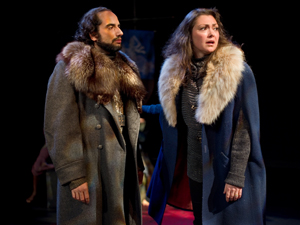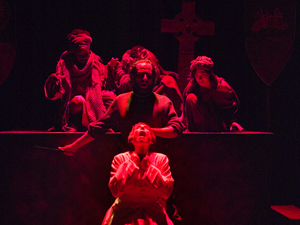 Download Tom Slot's Directing Resume here.
Press
"Tom Slot's adaptation of the Scottish play, "Macbeth (of the Oppressed)," is rocking the house at the Theater at the 14th Street Y in lower Manhattan. Slot directs this thrillingly talented cast featuring Antonio Minino as Macbeth and David Stallings as Husband Macbeth. A quick perusal of the program featuring color- and gender-blind casting piqued my interest … a perfect pre-Halloween brew of misdirection, intrigue and, ultimately, Destiny.…The splatter patterns on the floor of the set notified the wary that "something wicked this way comes" and wicked indeed it was as the masterful adaptation unfolded."
-- Sherri Rase, Q On Stage
"The trick to understanding this production is in three sets of simple yet important facts: the cast is wonderfully diverse (at least compared to most productions seen on city stages), exactly half those cast members are women, and many prominent characters' genders and relationships are switched. Put these three facts together and you create a production that gives resounding voice to those who society would rather ignore. And to superimpose these ideas onto a play about power is incredibly smart."
-- Sarah Webber, Theatre Is Easy
"If you watch and listen, you will see and hear an extraordinary Macbeth. The lesson here is that the passions transcend individual human concerns; they are universal. With non-traditional casting, comes the equal opportunity right to suffer…jealousy, hate, rage, greed, lust, power, love, and, the mostly absent, joy of life belong to all of us. See Macbeth (of the Oppressed) to appreciate the language, the acting, and, most importantly the contemporary message about the human condition. If "life is a tale told by an idiot," I'd choose this company to explain it to me, signifying everything."
-- Deborah S. Greenhut, Art Values Education
Testimonials from Playwrights and Producers
I have had the unique pleasure of working with Tom on projects at every level of collaboration. We have shared a stage as actors, directed one another, work-shopped new writing projects side by side, and have been partners in a nascent production company – Original Binding Productions. Throughout all of these endeavors, I am constantly amazed by Tom's tireless pursuit of a creative excellence, but even more importantly, his desire to create a passionate and supportive artistic community. Tom is one of the most dedicated, capable people with whom I have ever worked. Many times, it as if his sheer will is the primary force moving a production forward. Whether interviewing with the Times for PR, or slapping a coat of paint on a stage block, Tom is 100% committed to creating the best productions possible. I am quite literally in awe of his ability to multi-task and effectively balance the thousands of details which go into putting on a well-produced stage play.
-- Tom Edmond Evans, Actor, Director, Producer
As a writer, I have observed his ability to deconstruct my text in a way that allows him to think critically about what drives the piece and place his focus there. I have observed Mr. Slot take that information and communicate it clearly to his actors. He uses a variety of techniques to work with actors on character development, varying from physical activities to table work discussions with actors about characters' backgrounds. As a director, Mr. Slot collaborates excellently, asserting his feelings towards an idea while maintaining an open mind if differing views arise. He is always willing to work in collaboration to create the best art possible. In this way, Mr. Slot is completely respectful and true to the text while bringing in his own creative process into the work.
-- Jordan Swisher, author of Dead Guy
Tom directed my play, Ms. Martini, in its first production. I turned over text to a stranger, had no involvement with casting or rehearsals, and he presented what some call "a funny show about herpes and suicide" to audiences in a way that exceeded my dreams and provoked tears and laughter. Tom clearly understood the nuances. He did what all great directors do: blocked and costumed and
crafted a playwright's words to make them richer and truer than they existed on paper and so I am forever grateful.
-- Amy Knapp, author of Miss Martini
There are many impressive things about Tom's work. Whether we are talking about one of his plays or his ability as a director. One of the things that I appreciate the most is his time management and decision making in the rehearsal room. He has the precision of a diamond cutter and knows exactly what is needed and how to get it out of his performers, yet he leaves the door open to collaboration and mutual discovery."
-- Antonio Miniño, Actor, Producer, Entertainment Publicist
Testimonials from actors
I have had the fortune to work with Tom Slot on a number of projects, and have found each collaboration to be more rewarding than the last. With regards to matters of professionalism, Mr. Slot is one of the best people I know. His scheduling and use of time (both for the actors and non-actors) is always accurate and appropriate, and he makes the most use of everyone present. Whenever he feels the need to focus on a specific moment or event, his comments and suggestions are always succinct and precise, allowing rehearsal to continue in a timely fashion while still providing enough room to explore and better the work. When he feels the need to focus deeper on a specific moment or character, he uses only the necessary personnel involved in the moment, and draws upon a wide variety of exercises, activities, and techniques to draw out some of the best work I've seen from young actors to date. I have learned much about myself as a person and as an artist through working with him, and have also learned a great deal from watching him work with others. One of the beautiful things about Mr. Slot's process is that he does not play favorites, and gives just as much (if not more) attention to background characters as he does to the leading roles.
-- Bill Bria, Actor, Writer
Tom is a pleasure to work with. Kind, funny, and deeply passionate about theater, his insight into the text and his creative vision made for a production that was engaging, nuanced, and a great deal of fun to be a part of. His thoughtful and open nature created a safe space during the rehearsal process where the actors could truly explore their roles, allowing them to bring full, three-dimensional characters to life on the stage.
-- Amanda Rodhe, Actor
Tom Slot's gentle direction is always a joyful experience. He gives the actor the tools for discovery and celebrates with them once it has happened. The entire experience is one of collaboration. He creates such a safe and fruitful workspace that any actor fight for their chance to work with him.
-- London Griffith, Actor
Tom Slot is a dedicated director who works tirelessly to bring out the best in his actors. He is sensitive and nurturing to the creative process. Actors are given the structure and support they need and are respected as collaborators. It is always a rewarding experience working with Tom, as evidenced by the many actors who have worked with him multiple times.
-- Victoria Grazioli, Actor